Unable to find their forever home in the village they had spent most of their lives, the owners purchased a nearby cottage and were delighted when they were able to build a replacement property which would become their dream home.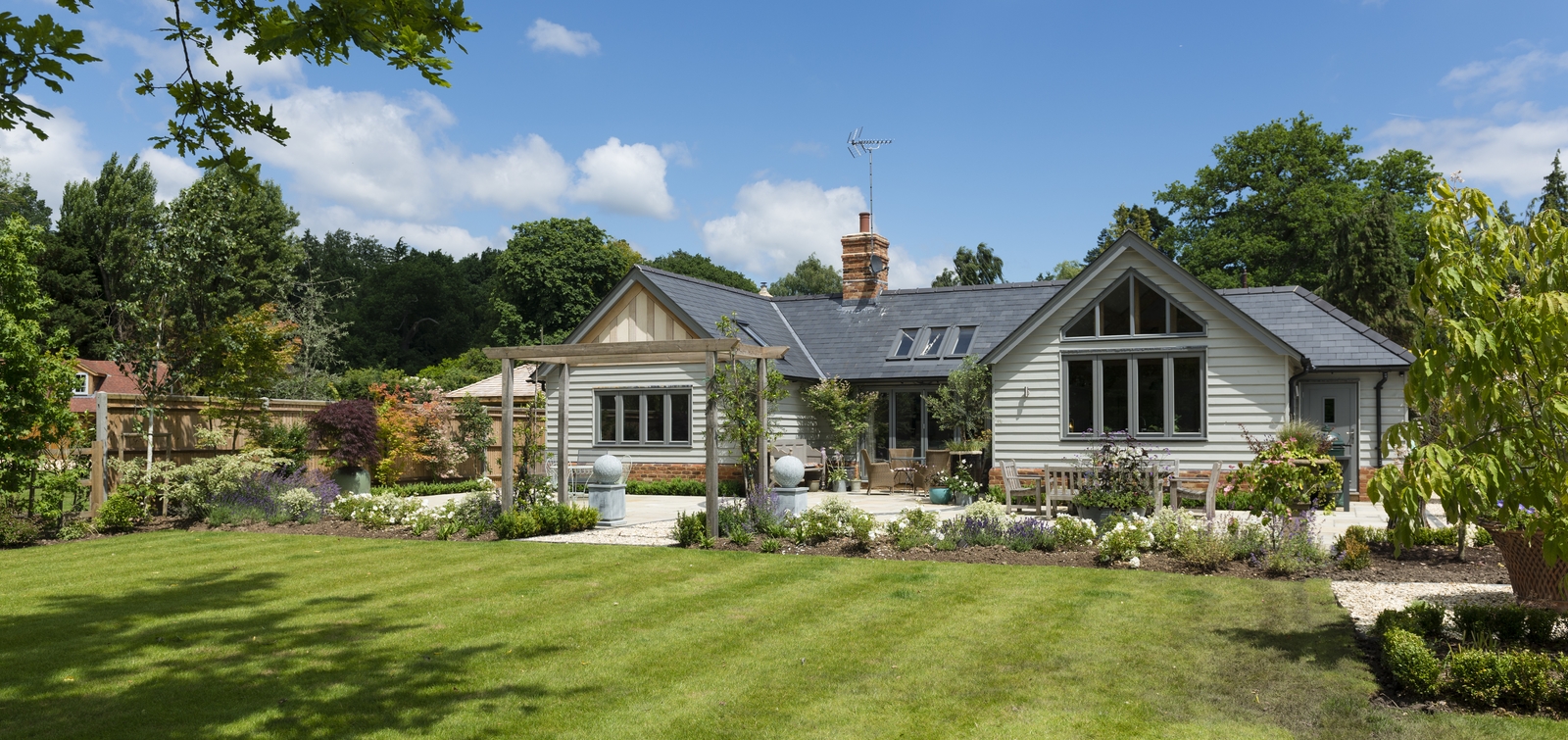 Single Storey Replacement Dwelling
Planning restrictions meant that a single storey home was the only viable proposal for this beautiful site on a leafy Surrey lane, overlooking meadows and long country vistas. The site was originally occupied by an older cottage and whilst our clients loved the location (having lived in the village for a long time) and had bought additional land from a neighbour to stitch together their perfect plot, they were surprised by the planning officers insistence that building heights were reduced.
Our clients were initially disappointed - having hoped to build a two storey contemporary barn - but with creative backgrounds they were able to reconsider their design options quickly to meet the planning officer's strict criteria.
Working closely with the Border Oak designers enabled the couple to include unexpected and architectural details such as vaulted ceilings, large contemporary windows and semi open plan living; all of which gives the home a modern, informal, and considered feeling. Perhaps the masterstroke was designing a home that literally reaches out into the garden, blurring the boundary between indoor and outside, and allowing the garden views to become an important element of the living spaces. The bifold doors in the centre section of the property open onto a beautifully landscaped patio which acts as another room. The two side wings form a bedroom quarter in the more private side with the busier kitchen and family spaces in the other, all with access to the garden.
Externally, the building is predominantly clad in grey painted weatherboard with a deep brick plinth, grey painted joinery and a crisp slate roof. The silvery tones of the external palette are echoed internally with a white backdrop to celebrate and showcase the exposed oak beams.
The highlight of the front elevation is the beautiful Border Oak porch which provides a warm welcome and perfectly introduces the delights to be discovered inside.
Features
Vaulted Ceilings, Border Oak Front Porch, Large Open Plan Spaces
Scopes of work
Border Oak Scope of works:
Design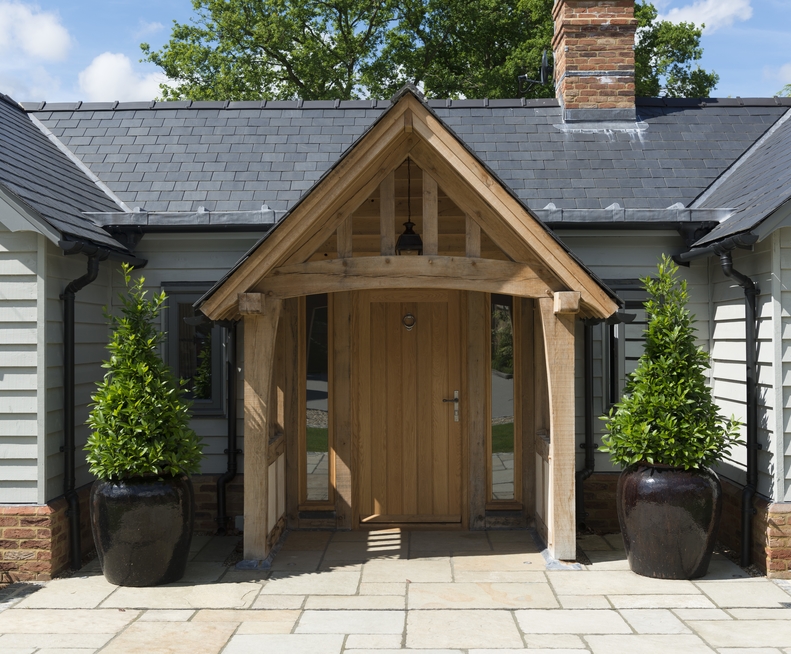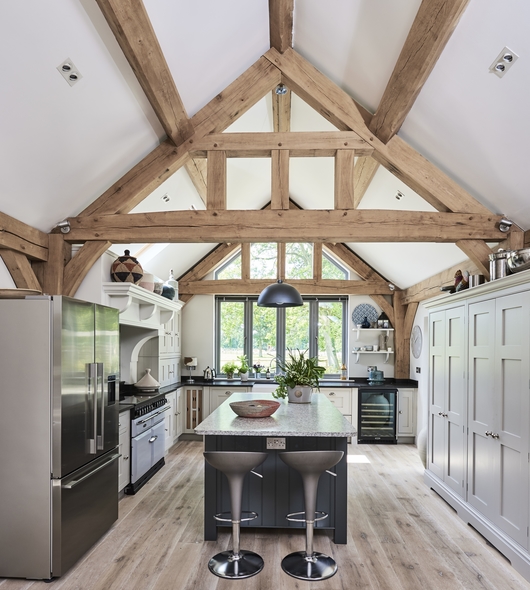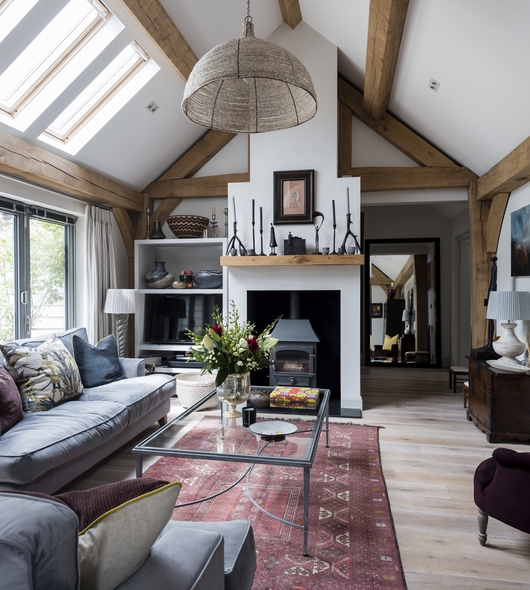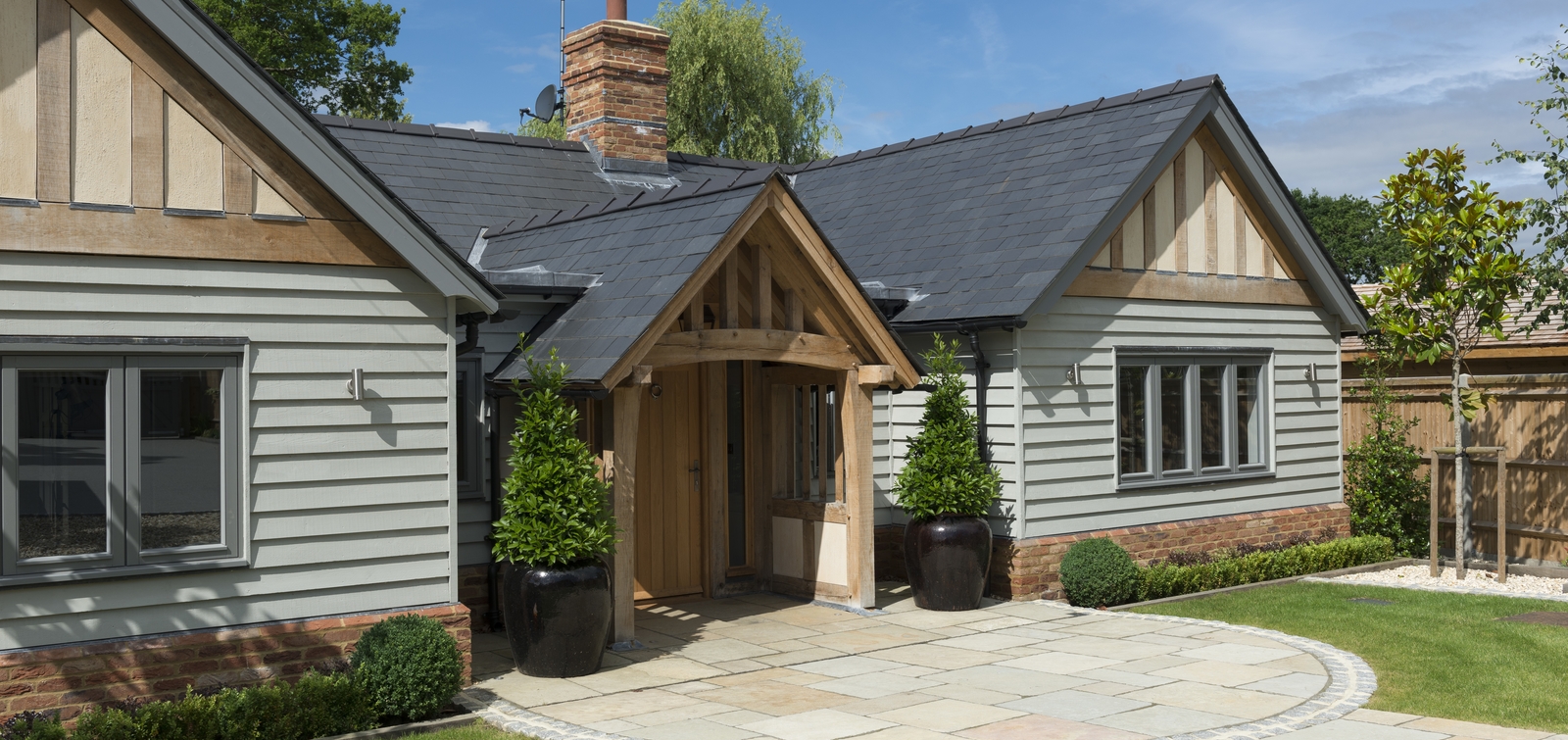 The homeowners thoughts....
"We love that our home is so light, but also cosy and warm. We have filled it with treasures collected over many travels and years."