White Goose Barn is a beautiful example of how the energy of a client, mixed with forward thinking planning policies and combined with sustainable construction methods can transform the delivery of rural affordable housing. 
Utilising Shropshire Council's Affordable Self Build Policies Border Oak worked closely with our fabulous client to design and build a modest barn home in the garden of her previous family home, enabling her to remain living locally, but to live in a house that better suited her needs and was warm, super efficient and flooded with natural light.
The Affordable Self Build Scheme aims to help local people build or commission their own homes and has conditions attached to the approval which maintain the house as 'affordable' in perpetuity often with a 'local person' occupancy restriction. There is typically a size constraint too - but using clever design features it is still possible to produce a wonderful, modern, super sustainable home in great locations that might not otherwise secure conventional planning approval.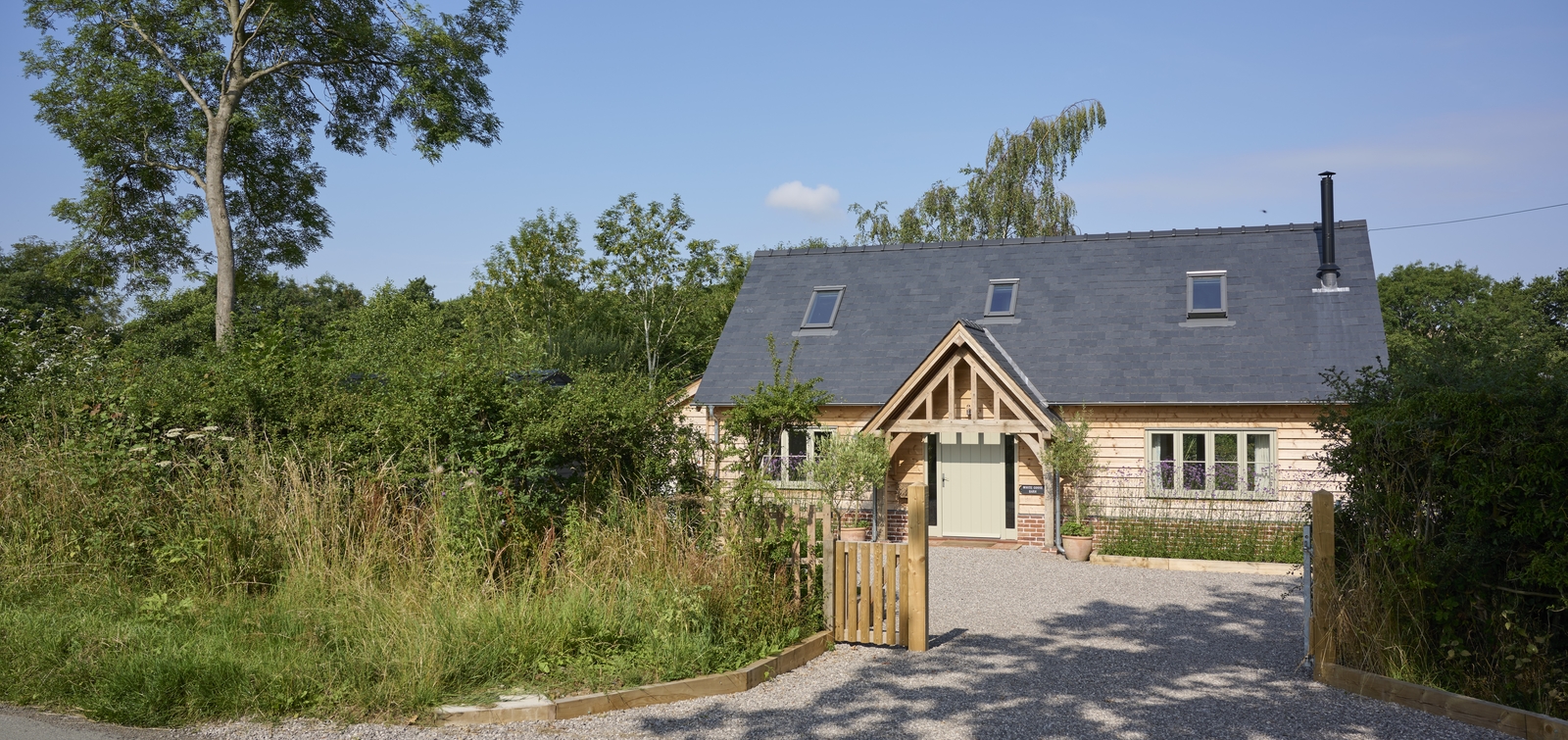 White Goose Barn is an inspiring example of what can be achieved - the spacious and bright semi open plan ground floor area, with an exposed oak framed garden room with a vaulted ceiling, bathroom and future bedroom space, is balanced by two generous first floor bedrooms and another bathroom in the roof space.
Constructed using an encapsulated ground floor oak frame, SIPs, engineered attic trusses and primarily faced in natural redwood weatherboarding over a handmade brick plinth, White Goose Barn also has a natural slate roof, timber joinery, galvanised guttering and is super insulated and heated by an airsource heat pump. A large oak frame porch welcomes visitors surrounded by pretty planting designed to provide habitats for bees and butterflies.
The end result is truly delightful - modern, but vernacular, designed for the needs and wishes of the owner and to complement the surrounding countryside. It is simple but beautifully detailed and built using exceptional natural materials that will softly weather over time. 
Affordable, sustainable and yet adaptable with longevity - a wonderful testament to the energy and vision of truly lovely client. 
Features
oak frame, weatherboarding, handmade brick, handmade tiles,
Scopes of work
Border Oak Scope of works:
Design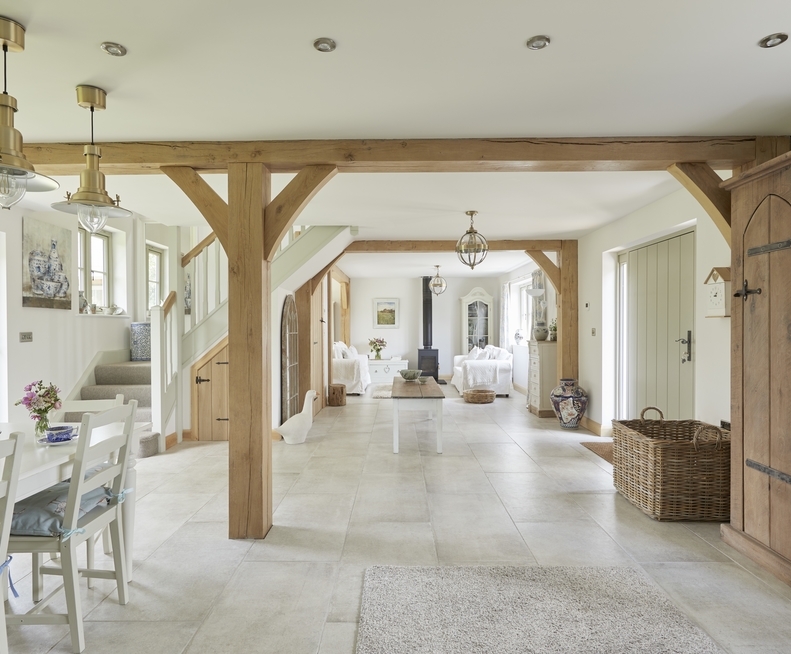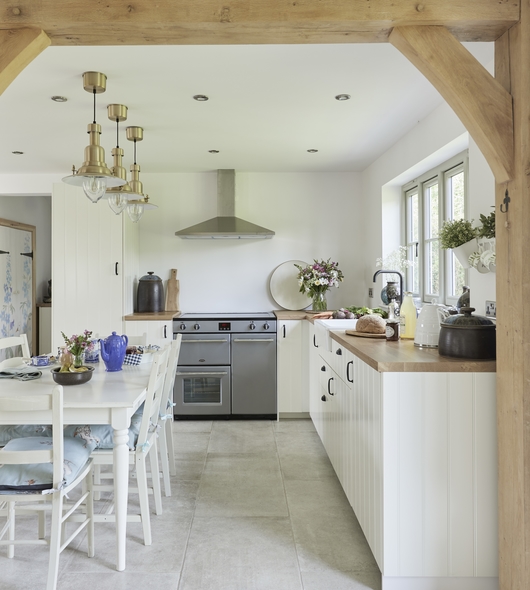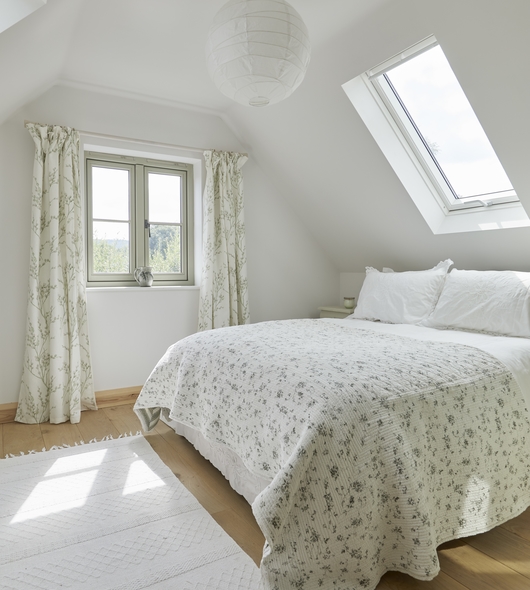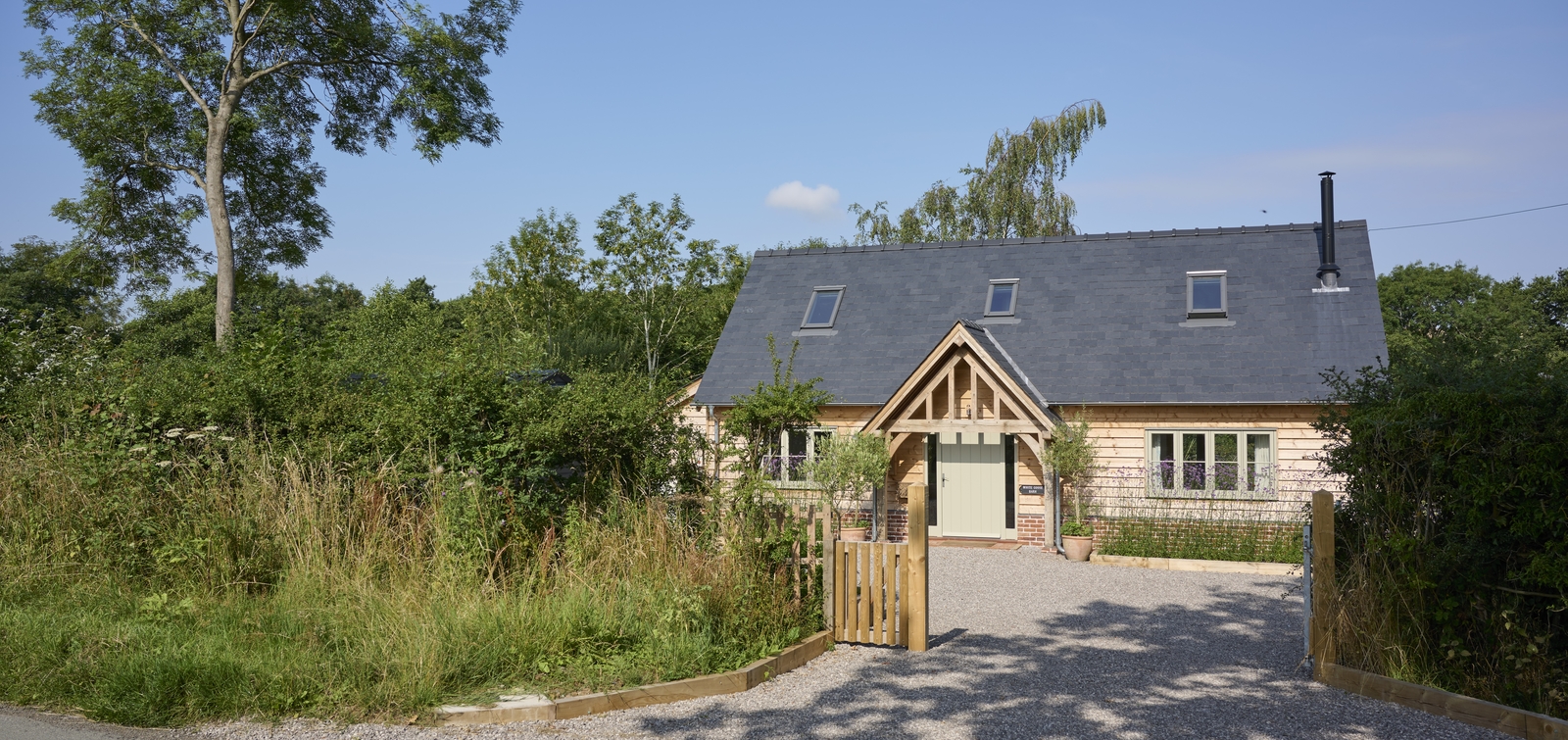 View more images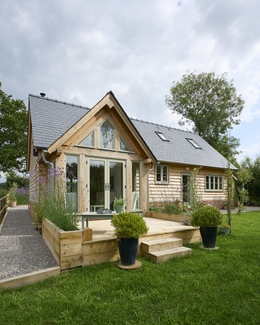 Customer Comments
Every morning, when I wake up, and every time I go out and then arrive back at my beautiful Border Oak Barn, I can't believe it is MY house. I think it is the most beautiful building you have ever created. My old house was beautiful, but this one is MINE from the very beginning.
Thank you Merry, if it had not been YOU that I spoke to at the NEC, my dream of a Border Oak house would never have materialised.