Introducing Redgate House, recently designed and built for Border Oak founder John and his wife Patsy in North Herefordshire. An Arts & Crafts inspired home, we hope you'll agree that the attention to detail is truly exquisite, achieved by exceptional craftsmanship. 
Winner of the Homebuilding and Renovating and Daily Telegraph 2022 Best Self Build and Readers Choice Award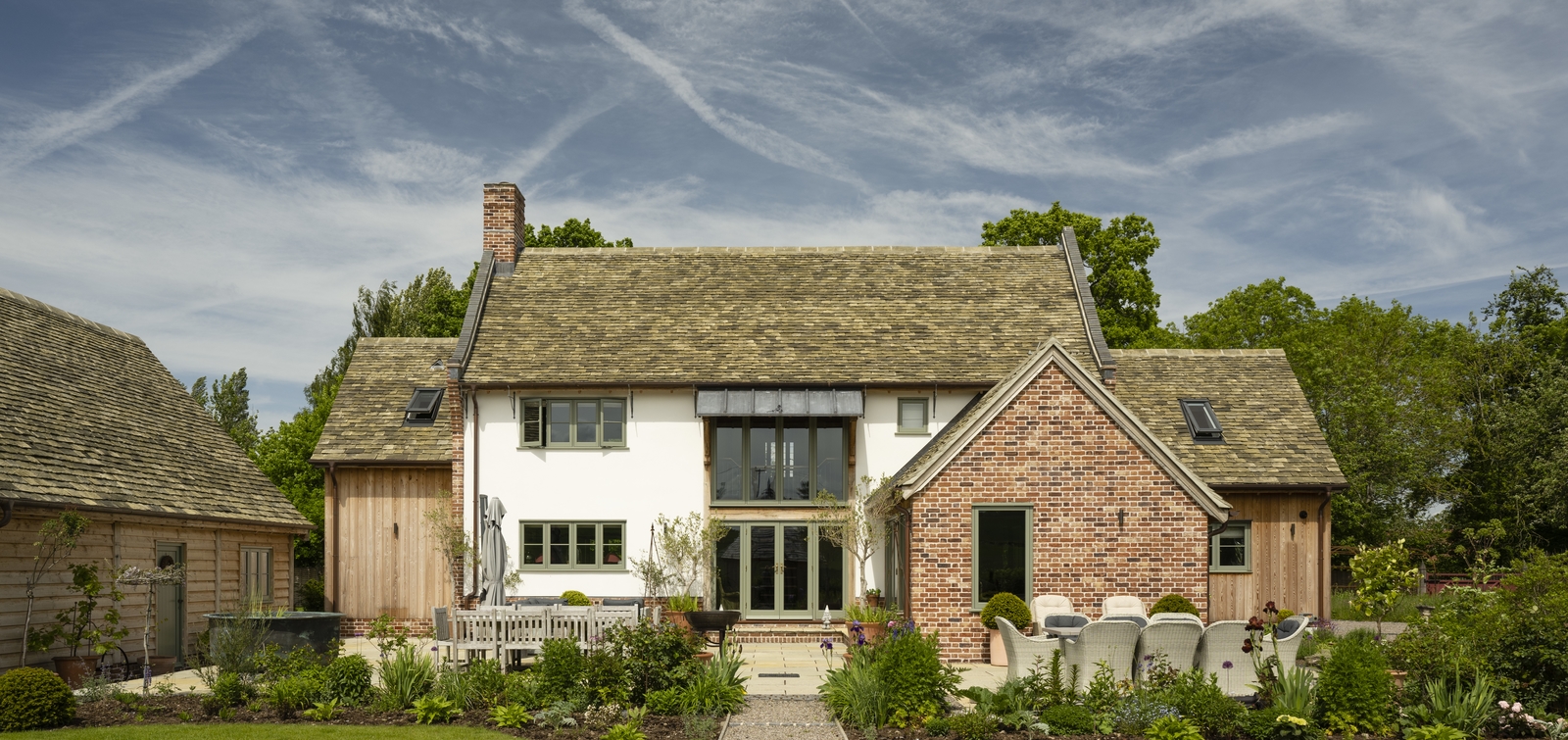 Redgate House was designed by John Greene, architect and Chairman of Border Oak, when he and his wife Patsy decided to downsize after a period of ill health. They had previously lived a few hundred yards away in the very first Border Oak home, which they built themselves when their family was young.
Planning approval was difficult due to the site being an old orchard outside the settlement boundary, coupled with a complicated local policy situation. Luckily, Border Oak have a very experienced planning team who could demonstrate that the scheme was policy compliant; overcoming all the officers concerns in the process. The house was designed around the remaining apple trees and further new trees and wild flower meadows were created to enhance the biodiversity.
Redgate House gave John purpose and the impetus to get well again; 'I have always loved the principles of the Arts and Crafts movement, not just the more well known William Morris prints and quotes, but the actual principles of authenticity, craftsmanship, natural materials and exquisite detailing – and this project was the ideal opportunity to showcase the principles and ethos behind Border Oak.'
In essence, Redgate House is a rendered three bay cottage, with two vertically timber clad side wings and a handmade brick single storey garden room on the rear. It is primarily open plan, but with super practical pantry, utility room, bathroom and library tucked away from the main living spaces. A dramatic blacksmith made staircase – a veritable feat of engineering – suspends from the middle bay, opposite floor to ceiling windows, and leads to three bedrooms, a sewing room and two bathrooms.
Every element has been considered and crafted – from the hand carved limestone fireplace made just a few miles way, to the furniture and storage made by John and Patsy's nephew in the next village. John even designed his own gutter brackets which were made by the local blacksmith.
John and Patsy were very fortunate to be able to work with a team John had assembled over many decades at Border Oak – people they have known all their lives. It was also a pleasure to see that hard won skills were being passed down from the experienced team to apprentices, and to discover new products and processes too. 
Beautiful interior design by Hannah Llewelyn Interiors.
Location
North Herefordshire
Features
Mainly Open Plan, Hidden Library, Suspended Staircase, Arts & Crafts Inspired, Bespoke Commissions.
Scopes of work
Border Oak Scope of works:
Planning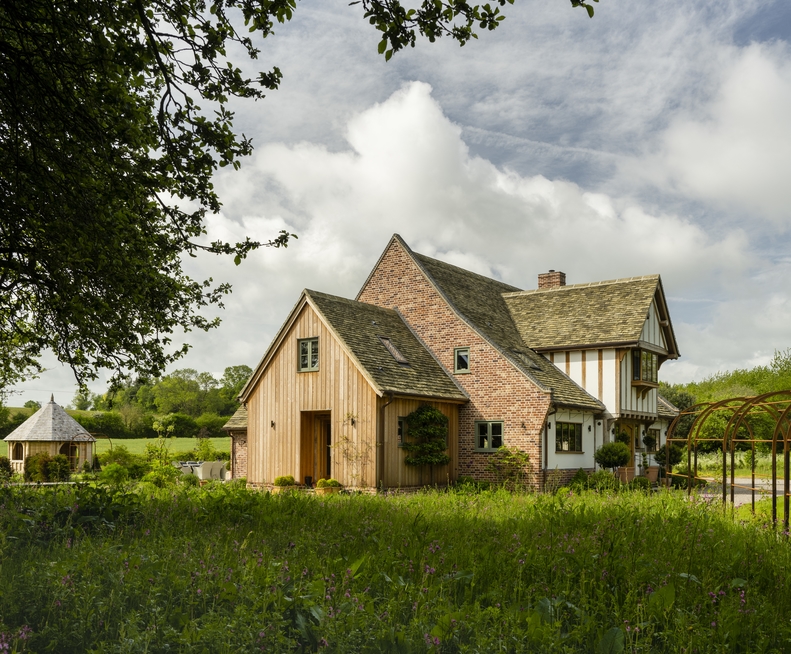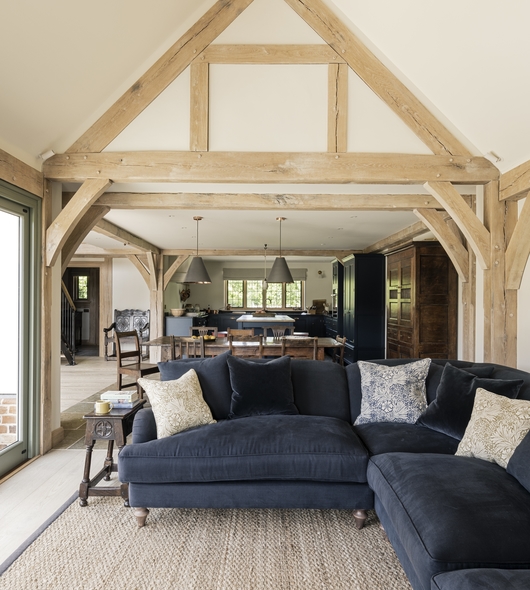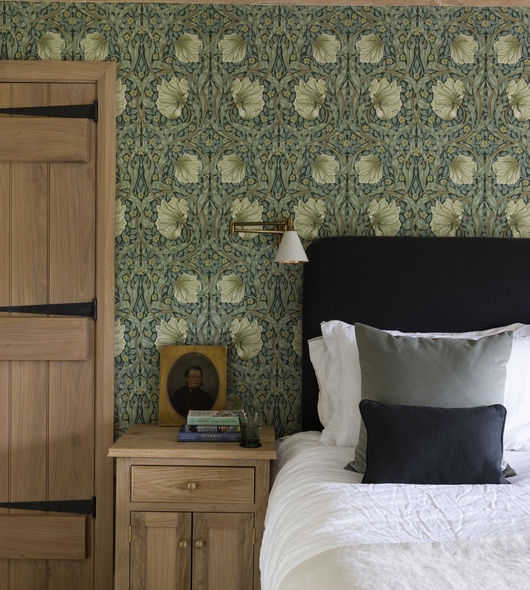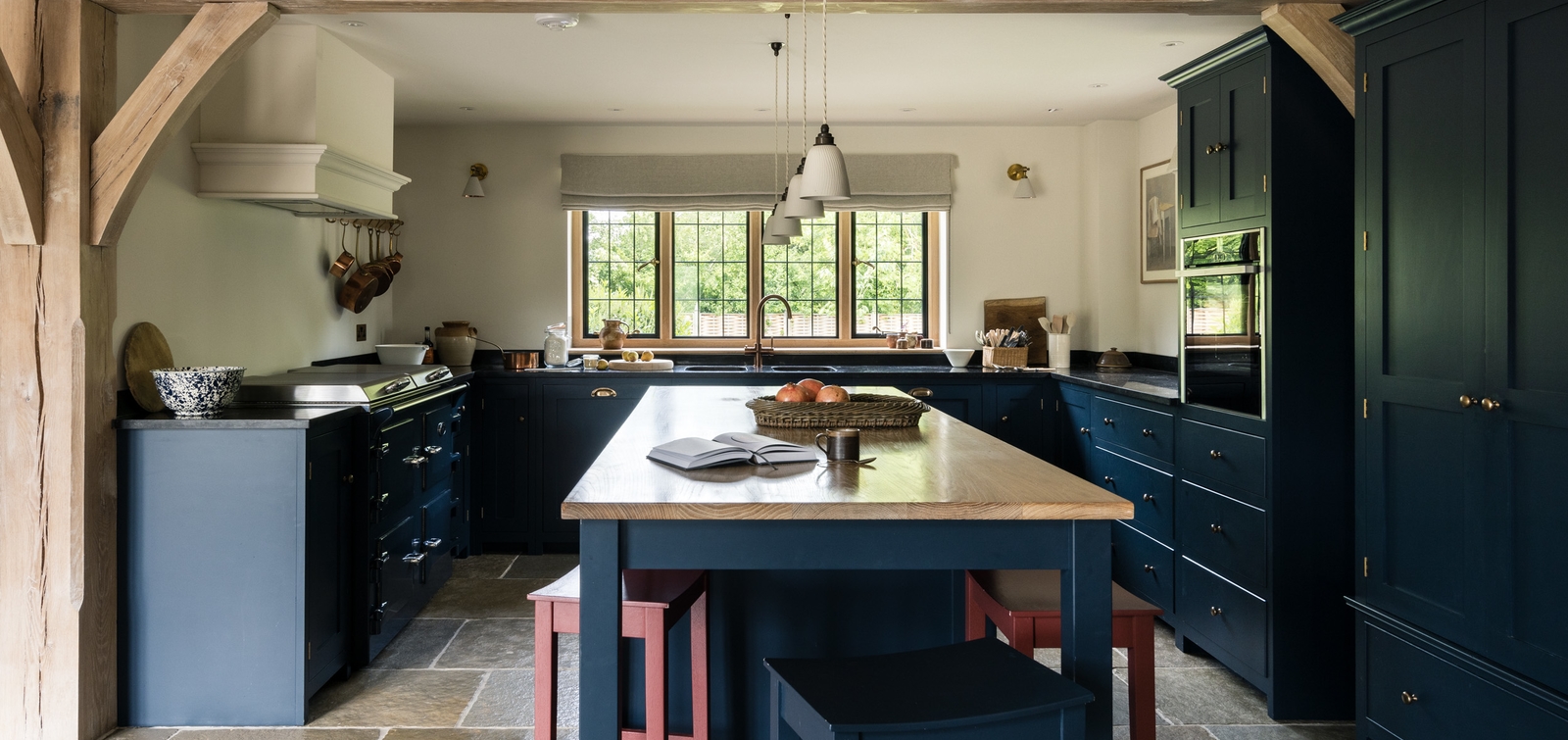 View more images
Client Comment
'We have been astounded by the skills, diligence and attention to detail from everyone who worked with us to bring this home to life – it has been a privilege have the opportunity to work alongside some very special craftsmen and the quality of what they create is truly outstanding. Designing and building Redgate House was fun, but it also kept me going through some very tricky times – not just my cardiac arrest, but the Covid pandemic and leaving our previous home which was built by my own hands and was a life's work. However, we couldn't be more delighted with what everyone has achieved.'